Welcome to Hunts Point Fuel
Hunts Point Fuel Corp. delivers oilheat, natural gas and electricity and helps New Yorkers of all kinds — landlords, business owners, homeowners and tenants — with their heating and electricity needs.
Our primary goal is to save our clients money while providing the highest level of customer service. Whether you are a single user or have multiple properties, our dedicated team is continuously monitoring the market for the best available price.
When it comes to heating equipment, our efficiency experts stay on the cutting edge, saving customers thousands of dollars with meticulous installations of the world's best boilers, furnaces and water heaters. We also use the latest test equipment during service calls and installations in order to tune your equipment for optimal performance and efficiency.
Let us know how we can serve you by using the links below.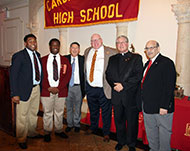 Our community suffered a tremendous loss in December 2014 with the passing of Dr. C. Errington Williams, a gifted athlete-turned-podiatrist. Dr. Williams excelled in football and track and field at Cardinal Hayes High School before attending C.W. Post College and starting his career. To honor his memory, Cardinal Hayes High School has since established a scholarship for students in financial need who embody the values found in Dr. Williams. The first ever Dr. C. Errington Williams Scholarship was awarded on January 16, 2016 at an awards dinner which also honored Coach CJ O'Neil, as well as Hayes alumnus and New York Jets offensive guard Willie Colon.
Dr. C. Errington Williams Scholarship Recipients:
2017: Donovan Anderson, #66, Junior Lineman
2016: Terrick Moncrief, #62, Varsity Lineman
Click below for more on this important night in Hayes' history and to learn how you can honor Dr. Williams' life and influence with a scholarship.
Click here to learn how to donate to this scholarship fund(PDF).
View more photos from this year's event.