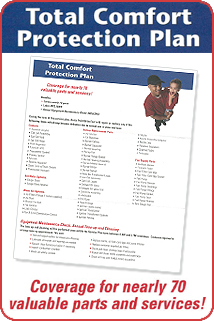 We've created a new family of service contracts to safeguard your family's comfort and budget! From the excellent coverage of our COMFORT PLUS PLAN ... to the comprehensive protection of our TOTAL COMFORT PLAN, we've got a service contract that's right for you.

Whichever plan you choose, you'll get:
The level of protection you want to prevent problems
Broad coverage against costly repairs
The valuable savings and peace of mind you deserve
Both plans provide unbeatable protection and value, and both guarantee you priority service and prompt, 24-hour emergency response. Plus, you can be sure that when our experts answer your call, they're more than prepared to do the job right. Now that's value and peace of mind you can count on! And the best part is, you can receive this coverage for literally just pennies per day!

Whatever your needs, a Hunts Point Fuel and Brite Fuel Service Plan is your guarantee of safety and dependability. And there's no better way to get the maximum benefit from every drop of heating oil.

Any questions? Please contact us.