Fall 2008 Edition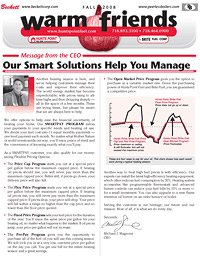 We pride ourselves on our dedication to keeping our customers well-informed. That's why we're so happy to provide Warm Friends to our family of customers. It's filled with interesting information, money-saving tips and the latest news about Oilheat and our company.
This issue....
Our Smart Solutions Help You Manage
Don't Switch to Utility Gas!
Citizens Energy Provides Discount Oil
Equipment Spotlight: Beckett Burners
My Cute Pet Photo Contest
Employee Spotlight: Rose Magnone Is 80 Years Young!
Need Help Paying Your Heating Bills?
Customer Spotlight: Dr. Robert J. Grace
Click here to download the latest issue.
Please note: you must have pop-ups enabled to view/download our newsletter.