A Company's Reputation ...

A COMPANY'S REPUTATION is the totality of a company's identity: the quality of its people, the value of its brand, its standing in the community and its performance in the marketplace. Building reputation, in this broad sense of the term, is what great companies are all about.

Every day we are required to meet challenges head-on and own our results. Every time we interact with a customer or a member of the community, we define who we are and what we stand for. Our people rally around sales and service, and are motivated to come to work every day with a passion to compete and win. It's imperative that we have a disciplined and consistent approach for translating our values into action.

We understand the challenges ahead. The degree of complexity in the marketplace continues to amaze, as does the intensity of the competition we face from a widening circle of companies. Keeping on top of these challenges will require us to be in a constant mode of learning, innovating, growing and transforming.

We start by putting customers first. We operate according to the values of integrity, respect, performance excellence, and accountability.

Remembering that great companies are judged not by what they say, but by what they do, we create the systems, tools, and processes that enable our employees to use our values to make decisions and serve our customers. Just as they've done throughout our history, our people come through for their customers and communities. Serving the customer is our heritage, our future and our daily challenge. Most of all, it's what we do every day.

Sincerely,
Michael J. Magnone
CEO
---
A Good Client Relationship ...
A GOOD CLIENT RELATIONSHIP is built on long term trust where many transactions occur with you serving as their trusted advisor. You earned this status because your credibility built it. You advised them and you defined yourself as trusted advisor. They don't perceive you as a salesperson. They see you as they do a doctor who they can trust and count on. You not only make the sale but you deliver the product or service many times. They count on you to do what you say you are going to do.
Influencing others to make the best choice for themselves while serving them with integrity and keeping their best interest in mind. We want to build a relationship of trust and service with our clients, every day. The best choice for the client is what builds trust.
Truth penetrates and goes deep. People trust you when you are honest with them. Be honest in every conversation and you will build trust. It takes courage to be honest. People like honesty and it builds strong bonds of rapport. In short, you build the relationship with honesty.
Courage is the quality of mind or spirit that enables a person to face difficulty or danger and act anyway. Courage is executing when you feel fear. It is not a state of mind without fear. It's performing in the mist of fear. I implore you to relate to others with integrity and honesty. My dad taught me a great lesson. He told me to be honest and I wouldn't need to rely on my memory.
Sincerely,
Michael J. Magnone
CEO
---
Hunts Point Fuel and Brite Fuel in the Community
Our community suffered a tremendous loss in December 2014 with the passing of Dr. C. Errington Williams, a gifted athlete-turned-podiatrist. Dr. Williams excelled in football and track and field at Cardinal Hayes High School before attending C.W. Post College and starting his career. To honor his memory, Cardinal Hayes High School has since established a scholarship for students in financial need who embody the values found in Dr. Williams. The first ever Dr. C. Errington Williams Scholarship was awarded on January 16, 2016 at an awards dinner which also honored Coach CJ O'Neil, as well as Hayes alumnus and New York Jets offensive guard Willie Colon.
Dr. C. Errington Williams Scholarship Recipients:
2018: Edgar Roman, #62, Defensive End, and Center
2017: Donovan Anderson, #66, Junior Lineman
2016: Terrick Moncrief, #62, Varsity Lineman
Click below for more on this important night in Hayes' history and to learn how you can honor Dr. Williams' life and influence with a scholarship.
Click here to learn how to donate to this scholarship fund(PDF).
View photos from the 2017 event.
---
When the cold got worse, we dug in deeper.
2018 kicked off with record breaking cold, snow, and wind. It was all hands on deck.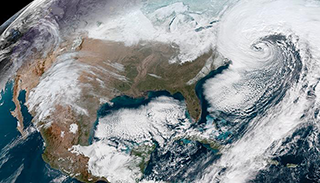 We faced a wide range of issues as the calendar turned over. Increased demand from a cold snap that lasted almost three weeks and broke records almost daily. We had new customers, calling for the first time, looking for immediate delivery. There were long-term customers who hadn't been able to shovel their driveways and walkways. Drivers and technicians out sick or injured from slipping on ice. We had Trucks breaking down. There were heating systems breaking down and pipes freezing. The calls didn't stop, our trucks didn't stop, our service reps didn't stop, and we didn't stop. Eight-to-10-hour office workdays stretched to 12- or even 16-hour marathon shifts. From receptionists up to owners, you saw people pitching in and helping each other. We all know there could be that elderly woman down the street who could run out of fuel, and they don't want to see that happen. That's what makes our people perform above the rest.

We are proud to report that we were able to keep our customers warm & happy, even if their call in delivery schedule got pushed back a day or two. If January 2018 proved anything, it's that extreme weather presents challenges. As a full-service fuel provider, Hunts Point Fuel / Brite Fuel offers our customers value-added services like automatic delivery, service plans and emergency service, and budget programs. We met the challenge head on and delivered for our customers.

January put the true value of all these value-added services on full display. Automatic delivery customers got priority over will-call. Service plan customers were scheduled ahead of those without a contract, and often saw a technician well after midnight, without having to pay any additional fees. And of course, your budget plan customers were able to get that extra delivery without breaking their bank.
Call us today sign up for "Open Market Price Program"
and join our full service customers.

718-893-3100 or 718-464-0900