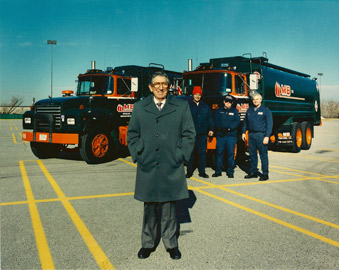 For more than 50 years, HUNTS POINT FUEL Corporation has maintained a tradition of family values both at home and in the community. Founded by Joseph V. Magnone as a small coal and oil delivery company, HUNTS POINT FUEL has grown to become the New York metropolitan area's finest independent fuel oil distributor.

HUNTS POINT FUEL's success story began in 1952, when Peter Magnone formed Belnord coal, Ice & Oil. Soon after Joseph & Thomas Magnone purchased the company and changed the name to HUNTS POINT FUEL. This newly founded company delivered coal & oil to small, multi-dwelling buildings, and private homes. The conversion from coal to oil had begun when customers realized oil was a cleaner and more efficient source of heat. Hunts Point Fuel made the necessary changes to better serve our customers and acquired additional trucks to deliver heating oil.

Times have changed dramatically since Joe first founded the company. Today, a third generation of the Magnone family continues to honor his commitment to providing top-flight customer service and high-quality products and service. This rich tradition is strengthened by its reputation for integrity and a philosophy of treating the customer first, HUNTS POINT FUEL provides fuel for the enterprises that are the heart of the community: apartment and office buildings, manufacturing plants, private homes, schools, hospitals, and places of worship.

HUNTS POINT FUEL has highly trained in-house service personnel and a Customer Care Center dedicated to handling customer needs. These outstanding team members actively volunteer in their communities and contribute to many charitable causes. In fact, Hunts Point Fuel has received community service awards in appreciation for making heating oil more accessible and affordable to the elderly and lower income households.

As a family owned and operated company, Hunts Point Fuel aims to treat each and every customer like a member of the family.